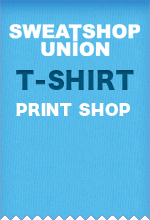 Terms and Conditions
Orders have to be paid for either in advance or after production has finished at pick-up or through cash-on-delivery service. Terms available for approved clients.Please call or email for details. Orders will be only accepted once the client has forward all the relevant details such as phone number,email address if availalble,full address.
Charges: Other charges then those mentioned on the website include 5%VAT on all prices. Delivery charges for orders under ¥50000 or under ¥80000 to Hokaido and Kyushu and Okinawa.
Artwork:Artwork that is not suitable for film outputting and screen making will be traced and reconstructed by us.This will be billed at ¥2000-¥5000 depending how complex the design is. The client will get a copy of the final artwork for approval.
Artwork specs: Artwork must be submitted in one of the following formats: 1.Generic vector file(.eps or .ai) in which all text is converted to outlines.2. High resolution (300dpi) Photoshop document(.psd or.jpg) at actual print size 3.Hardcopy which will be scanned by us and made print ready.This might involve a small charge.
Artwork approval: All new artwork or copy changes will be approved via email
Computer compatibility: Sweatshop Union is Mac compatibile( Illustrator CS3,Photshop CS3).We accept files via email,CD-ROM/DVD-ROM.Please include text fonts if possible.
Customer separations: 4-Color Process separations supplied by customer will not be accepted. Sweatshop Union separations are created specifically for garments printed in our production facility.Please let us prepare your separations to account for proper dot gain.
Maximum garment imprint sizes(WxH): Unless indicated in writing on your purchase order, we will use best judgment to determine final size of the artwork. Full front / Full back adult 40cm x 50cm Left/Right chest 12cm x 8cm (suggested max) Full front/Full back youth up to size 140 28cm x 35cm Girls tank tops and fitted garments 22cm x 29cm Short sleeve 9cm x 10cm Long sleeve 9cm x 40cm (suggested max)
Printing on youth and adult garments: Some designs to be printed on both youth and adult(man) or adult(woman) may require 2 sets of screens to make the design fit.Imprint pricing will be based on quantity of each design size, not the combination of adult and youth sizes.However an imprint size can be determined to fit on both adult and youth sizes to avoid such charges and to keep the amount of screens to a minimum.
Subcontracting: Sweatshop Union reserves the right to utilize subcontractors in rare cases without notice.
Quantity pricing: Based on the quantity of each item.Adult(man),adult(woman) and youth size imprints can not be combined for a lower imprint charge unless the same size imprint is used.Left breast prints on adult(man) and youth/kids garments can not be combined for a lower charge even if the same design size will be used as the design has to be reset on the press to make up for the big difference in garment size and the therefor different print position.
Printing over seams: Sweatshop Union must advise its clients that the process of printing over the seam or very close to a seam is not as consistent as printing on an even surface such as the back or center chest of a t-shirt.Some inconsistencies may occur in regastration and ink coverage. Sweatshop Union will not be responsible for such inconsistencies for printing over or close to seams.
Cancelations: Cancellations will only be accepted before the final quote has been approved by the client. No cancellation for approved orders.
Turn around time: Orders are scheduled on first come first serve basis,unless guaranteed/rush service is utilized.Ideal production time is 14 business days with a max of 21 business days during summer.Ship date is based upon receipt of your approved order or approved sample.Orders over 1000 items may require more time.Finishing services such as labeling(neck labels) will add 5-7 days to the turn-around time. The turn-around time is subject to availabilty of the stock ordered. In case of natural disatster,machine breakage or any other damage to property or business we will not be held responsible for missing the turn around time target.
Shipping and delievry : Sweatshop Union will use one of the following shipping companies: 1.Kuroneko Yamato 2.Seino Shipping charges have to be paid by the client for an order volume under ¥50000. In this case shipping is charged at ¥800 per box. Split shipments will be charged extra at ¥800 in any case and order volume. Shipping charges to Hokaido and Kyushu will be charged at a rate of ¥1500/box. For orders over ¥50000 the shipping charges to Hokaido and Kyushu will be split half between Sweatshop Union and the client. Orders of ¥80000 up will be free of shipping charges to Hokaido and Kyushu. Sweatshop Union is not responsible for any delay in delivery that occurs at fault of the shipping company.No refunds will be given in those cases. If a client has not picked up his finished goods after a period of 7 days after the agreed pick-up date, Sweatshop Union will ship the order without further notice as cash-on-delievery to the by the customer provided address.
Spoilage: Sweatshop Union will not be responsible for spoilage on contracted goods.It is highly recommended to order more garments then needed for each size and color.
Contracted goods charges: Sweatshop Union will except printing on contracted goods for an up-charge of ¥100 for the 1st print color and ¥80 for every following print color. Contracted goods might not be excepted for certain special offers available at Sweatshop Union.
Unpaid invoices: Shall an invoice remain unpaid for 60 days we will immediately seek judicial action. There will be a 25% penalty accessed to the unpaid invoice balance along with accrued interest,court and lawyer fees when the claim is filed.
Disclaimer: Sweatshop Union cannot guarantee variances in size/shape/construction of garments and merchandise.
Refunds and retuns: Any standard order will be granted a rerun should the order be deemed defective by the Sweatshop Union control board.Refunds will only be granted on Rush/Guaranteed Service orders should the date be missed and the goods are no longer desired by the client.Refunds will not be granted on standard custom orders.
Claims and returns: Claims must be made within 72 hrs from receipt of merchandise.Please call immediately. Claims have to be made by the ordering party and not by a 3rd party involved.